Scaling Up Business Workshop
Thursday, Feb. 28, 2019 | Studio City, CA
Are You Ready for a Quantum Leap in Your Business Results?
The world-renowned Scaling Up Business Growth Workshop empowers you to accelerate profitable growth using a time-tested and results-driven methodology. Through this exclusive learning experience, Scaling Up Coaches have empowered more than 40,000 executives and their leadership teams with proven tools and strategies to scale up smarter.
Date & Time
Thursday, Feb. 28, 2019
8 a.m. - 5 p.m. PT
Location
The Garland
4222 Vineland Avenue
Studio City, CA 91602
Refund Policy
Refunds up to 30 days before event
*Use promo code Fowler100 to receive $100 off your admission. (Case sensitive.)
A Personal Message from Pete Fowler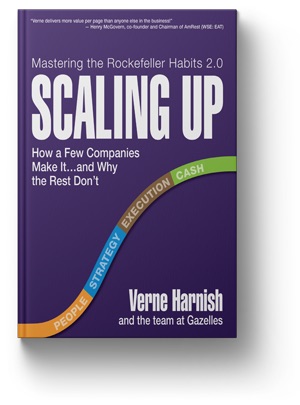 You may have noticed that PFCS is growing. In addition to sending my kids off to college and completing an executive education program called Goldman Sachs 10,000 Small Businesses, we have been applying the Growth Tools that I learned about in Verne Harnishe's book called Scaling Up and in the "Scaling Up Business Growth Workshop" I attended in January. The point of all these tools is to create team alignment, greater revenue, profit, and high performance for your leadership team and the company at large.
My "relationship" with Verne Harnish goes back to the time I founded this business. I dreamed of attending an executive education program that he founded called Birthing of Giants at Massachusetts Institute of Technology (MIT). But I needed to be doing at least $1 million in annual revenue to qualify. So I worked and worked until we reached that milestone, and not only did I apply and get accepted, I also joined the organization that Verne founded called Young Entrepreneurs Organization (YEO). That group has since lost the courage to kick out the people under 40, so it's called EO now, but it's still an awesome group well worth the time and money. I was a member for 10 years and the friends I made remain some of my closest, life-long friends.
The business acumen I learned from these Verne Harnish programs, combined with good luck, hard-work, awesome staff, and tremendous force-of-will, have been the foundation of a really fun, interesting, and fulfilling life.
Build an Unshakable Foundation for Sustainable Growth
"I am a planner. Surely, I could be FAR more efficient if I would just get to work sometimes. If you want to see what a crazy person I am about it, see The PFCS Weekly Planning Method I wrote. But planning has allowed me to go much further than my native talent would have otherwise allowed, and Gazelles Growth Tools are some of my favorite planning tools."
- Pete Fowler
Learn the four decisions Every Executive Must Get Right to SCALE UP their business:
Attract and Keep the right PEOPLE
• Become a magnet for A Players
• Align your team around core values
• Increase accountability & results
Create a truly differentiated STRATEGY
• Clarify your brand promise
• Discover your SWOTs and trends
• Determine your 3-5 year key strategies
Drive flawless EXECUTION
• Learn & apply the Rockefeller Habits 2.0
• Create a culture of accountability
• Fine-tune processes to run without drama
Have plenty of CASH
• Accelerate cash flow to fuel your evolution
• Improve your sales cycle
• Ensure you are never short on cash
Resources